Well, I'm glad you asked!  At NMCCH, a bicycle rodeo is an opportunity to connect our children and families with donated bikes and have some fun in the process.  We received a large donation of bicycles from several places and many of them needed minor repairs.  We were wrestling with the best way to distribute these bikes to our single parent families who live off campus and our residents who have a lot of weekend activities.  Our Director of Adoptive Services, Patricia Miller came up with the idea of a bicycle rodeo.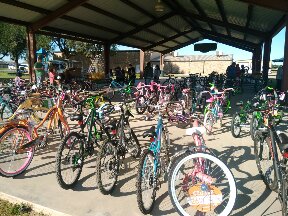 On a Saturday morning in October we put all the donated bicycles (about 80 in all) out in our Pavilion.  Volunteers representing every department at the Children's Home and volunteers from the 3rd and Kilgore and Southside churches of Christ in Portales came together to help with the rodeo.  The children began coming about 9:00 am.  If a child needed a new bike, they were taken to the donated bike area to pick one out according to their size and needs.  If they owned a bicycle but needed repairs, they were taken to one of three work stations where a volunteer would repair the bike.   Air in the tire, adjust the seat, tighten the brakes, whatever needed to be done our volunteers would get the bicycle road worthy for the eager child.
Next the child was taken to our safety area.  Our Director of Adoptive Services would issue them a helmet and teach them the importance of riding with a helmet.  One young man told his mom that he needed a helmet to "protect his brain."
After repairs and a safety lesson, the children were free to participate in games such as the paperboy challenge, the coasting challenge and others.  We concluded our day with a hot dog lunch and each child was given a stuffed animal donated by PetSmart in Clovis.
On this Saturday, we helped a family from our community obtain new bikes for their family.  We witnessed at least two children who had never learned to ride a bike without training wheels, master the art of bicycle riding.  We saw staff children, community children, single parent children and resident children playing together outside and enjoying their bicycles.  We heard children ask for helmets to "protect their brains" because of Patricia's safety talks.  We heard laughter, we saw smiles, hugs and high fives.  It was a great day!  It's what we do here at NMCCH!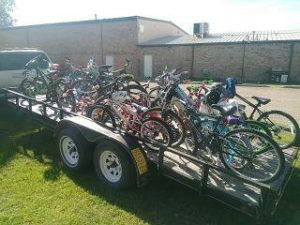 A trailer of bicycles headed to Hope Haven for single parent families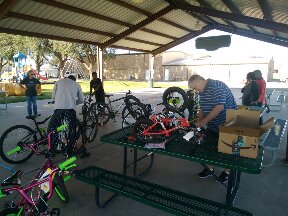 NMCCH Board Member, Buddy Blue volunteered his Saturday to repair bicycles