Our Oregon Ambassadors Strike Again!
A little over a year ago, I introduced you to our Oregon Ambassadors.  Moriah Riley and her little sister Joslin, along with their parents visited our campus, dropped off donations and spent some time visiting with our NMCCH family.  You can read their story here.  Moriah has been praying for our children and helping raise money for the Home since she was 5 years old.  At her home congregation, the Prineville Church of Christ, the Christian Children's Home is known as "Moriah's kids."  Her enthusiasm for the Home is contagious and she has recruited her little sister, Joslin to help her in these endeavors. 
 Recently we received this sweet note and a check for $5000 from our Oregon Ambassadors!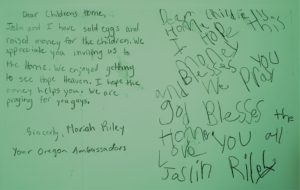 "Mo" and "Jo" or "Mojo" as we call them around here, were thrilled when we told them that we would apply this donation to our playground renovation on campus.  They were happy to know that their hard work in raising the funds would go toward something permanent that would help our residents and single parent families.
Our insurance company is requiring us to update our equipment on our main campus playground to comply with current safety standards for children.  We are having to remove several structures that have been on our playground for many years and replace them with newer, safer equipment with proper surfacing.  This renovation will cost around $200,000.  We are grateful to our Oregon Ambassadors for helping us get started.  If you would like to help with this project, please visit our donate page and select "Campus Playground Improvements."  
 Thank you "Mo" and "Jo" for leading the way with your servant hearts!