Charity Night – What a Great Idea!
With our Home located in a small rural town in New Mexico, it is often difficult to have special event fundraisers for the Home.  One of our donors came up with an idea that we want to share in case other supporters of the Home would like to try it in their community.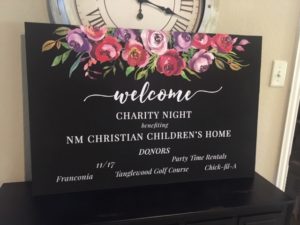 Cheri wanted to help the Home raise funds, even though she lived in McKinney, Texas.  McKinney is in the Dallas-Fort Worth area so she has access to a lot of people.  Her birthday was coming up and she wanted to do something to help the Home in honor of her birthday celebration.
Cheri came up with the idea of a Charity Event Night and here is what she did…
She booked a room at a local restaurant in McKinney and began talking to people who would donate the food and items for a silent auction.  When the restaurant and other vendors were approached about this idea, they willingly donated the room rental and the food for the event.  It was their way of helping out our Home!
Cheri then set an entrance fee and we helped on our end with making registration for the event available through our website.  She invited friends and family to celebrate her birthday by attending the Charity Event Night.
On the night of the event, her friends and family came out and had a great time celebrating her birthday and participating in the silent auction and enjoying the appetizers that were served.  Cheri raised over $6500 for our Home on that night!
"We had a fun night benefiting a great cause!"
  – Cheri Driscoll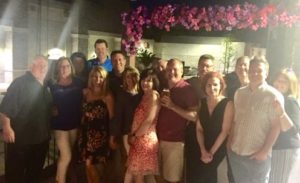 Happy Birthday, Cheri and thank you for your servant heart!
If you would like to host a Charity Event Night in your hometown, just contact us and we will help you get started.  We will even come out for the event and help provide information if you like!