Recently, the youth group from the Santa Fe Church of Christ in Santa Fe, New Mexico spent a few days of their spring break with us to volunteer at the Home.  This group of 6 young people and 2 adult sponsors visited our Home to serve for a long weekend.  They interacted with our residential children by serving snacks and playing games in the gym.  They helped us entertain our single parent children during the Sunday night devotional while the single moms shopped in our grocery room and clothing room.  They worked with our campus and farm and ranch managers to move a pivot sprinkler from one field to another – a huge project that they accomplished with a smile!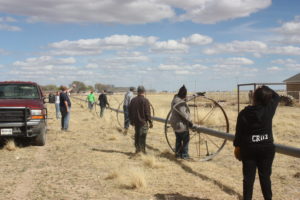 The Santa Fe youth group are special and amazing teenagers.  They served, they smiled, they laughed, they worked, they played and they demonstrated the love of Jesus to our campus.  What makes them so special?  This group was led by two amazing sponsors, J.B. and a special lady named Misty.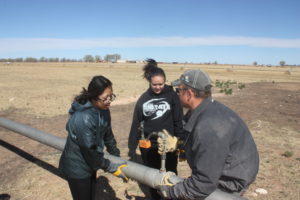 When Misty called me to see if her youth group could come during spring break, I asked her how she knew about the Christian Children's Home.  Misty explained to me that she was adopted through our Home and wanted to give back.  I was anxious to hear more of Misty's story.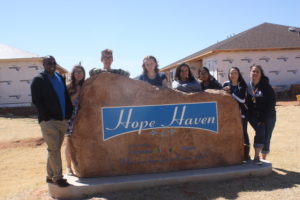 When her youth group arrived in March, we visited one evening and she told me her story.  Misty was abused as a baby and was removed from her home in the early 1970's.  She was placed in our Home in 1974 and was adopted in 1975 at the age of three by a loving Christian family.  Misty grew up in this Christian home and her parents taught her about Jesus.  After she grew up, Misty spoke with her caseworker from her adoption and began to look for her siblings because she knew she had several biological siblings.  Her caseworker broke into tears when she talked with Misty.  She told her, "I was the one who gave you the name 'Misty' and I'm so happy that you kept that name." 
It was her former caseworker who informed her about the adoption through the New Mexico Christian Children's Home.  Misty says that she does not have memories of being here because she was too young but she feels a kinship to the Home because it was through the work here that Misty found her family and through them – her forever relationship with Jesus!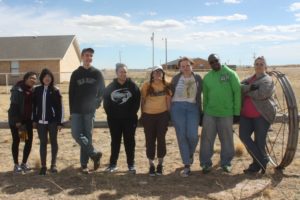 Misty has been happily married to her spouse, Michael of 24 years and has two beautiful children Brenden, age 17 and Haleigh, age 15.  She and her best friend, J.B. lead the Santa Fe youth group and keep them busy with spiritual growth trips, summer camps and serving others in their community and in places like here at the Christian Children's Home.
Through the power of our great God, the cycle of abuse has been broken and a new cycle of love and Christian service has begun!